News and Events
Special Events
During the course of the Season we hold various events such as Vintage Weekends, Book Launches, Presentations, Airfix Paint and Make Days.
We are currently putting together our calendar of special events and these will appear here shortly, and on our Facebook and Twitter Pages.
They will include: Vintage Weekends, 100th Anniversary of the RAF Centenary event, Blenheim Day, Defiant Day, John Vasco presentation on the Messerschmitt Bf 110 and several book launches, including Andy Longs definitive tome on the Boulton Paul Defiant.
Watch this space!
19 July - Spirit of The Few - P/O Keith Gillman.
An anxious day for Stephen Melton, the sculptor (and his team at SPACER's studio at Thanet), as they met Lindsay Langley, her husband David, and Suzanne Gillman, to show them the life-size sculpture of their uncle, P/O Keith R. Gillman.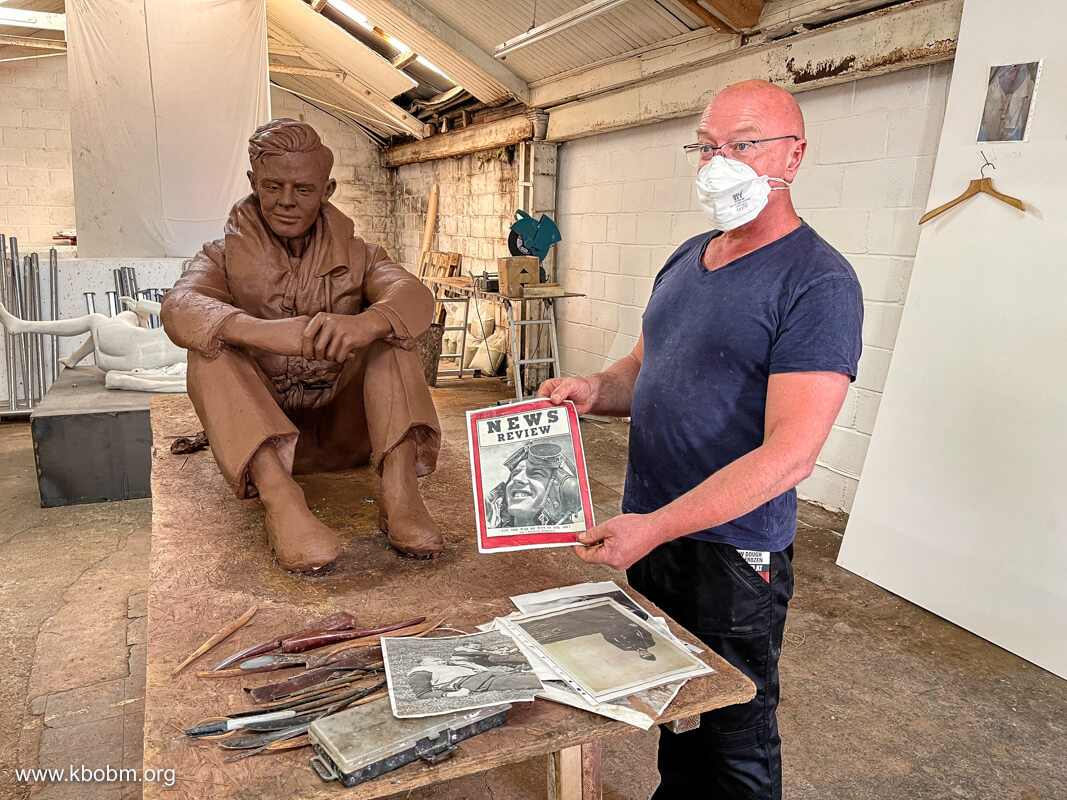 The nieces were massively impressed by the life-size sculpture of Keith, the stunning work in creating it by Stephen and were happy that nothing needed changing. Suzanne is supplying a photograph of a family watch, that was possibly Keith's, and this will be added to the sculpture by Friday, when Stephen is due to finish this creation.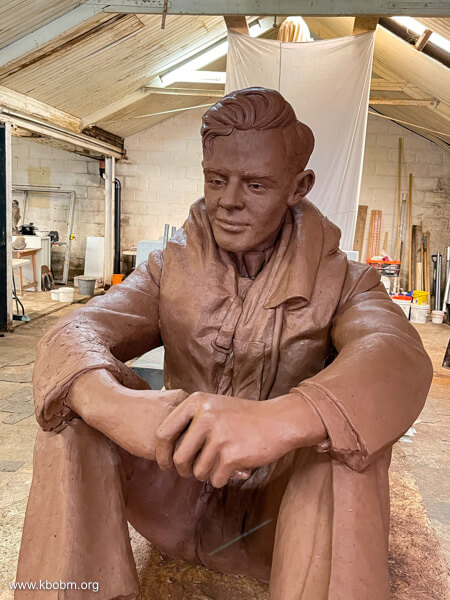 The reaction of Suzanne, on seeing her uncle's scupture for the first time on 19 July 2019 - 'Amazing'
28 June - Spirit of The Few - P/O Keith Gillman.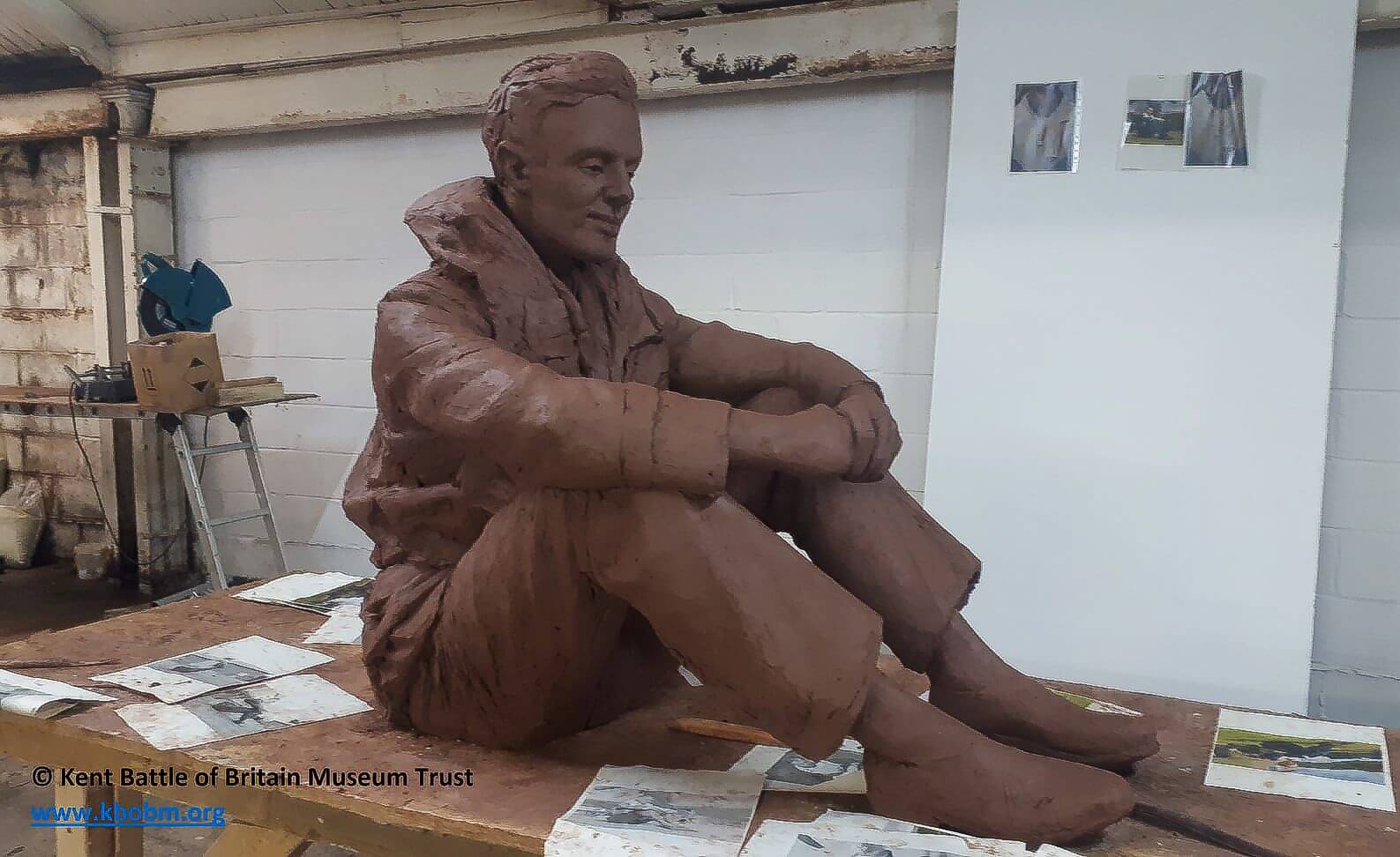 Hopefully most will remember that last September we, the Trustees and Volunteers of the Kent Battle of Britain Museum Trust, made a landmark announcement that we were creating a permanent Memorial to our heroes 'The Few' within the Museum Grounds.
Later you helped us name this Memorial the 'Spirit of The Few.'
We have been fairly quiet since, contacting the next-of-kin of six of the seven airmen that are being created in the Memorial, which recreates in full-size bronze sculptures the seven pilots of No. 32 Squadron captured by a cameraman from Fox Photos on 29th July 1940. We are still trying to locate the next-of-kin of Rupert Smythe.
We commissioned Stephen Melton and his team from Spacers at Thanet on 21st September 2020 to create this Memorial. Obviously since then we in Kent faced a lockdown from November, that was later expanded to the whole of the country, which has impacted on the start of this commission but we have some good news! Three weeks ago Stephen Melton started on the creation of the first figure / sculpture, that of Pilot Officer Keith R. Gillman. Keith was 19 years old when he was shot down and posted 'missing believed killed' a few miles from Dover, his home town.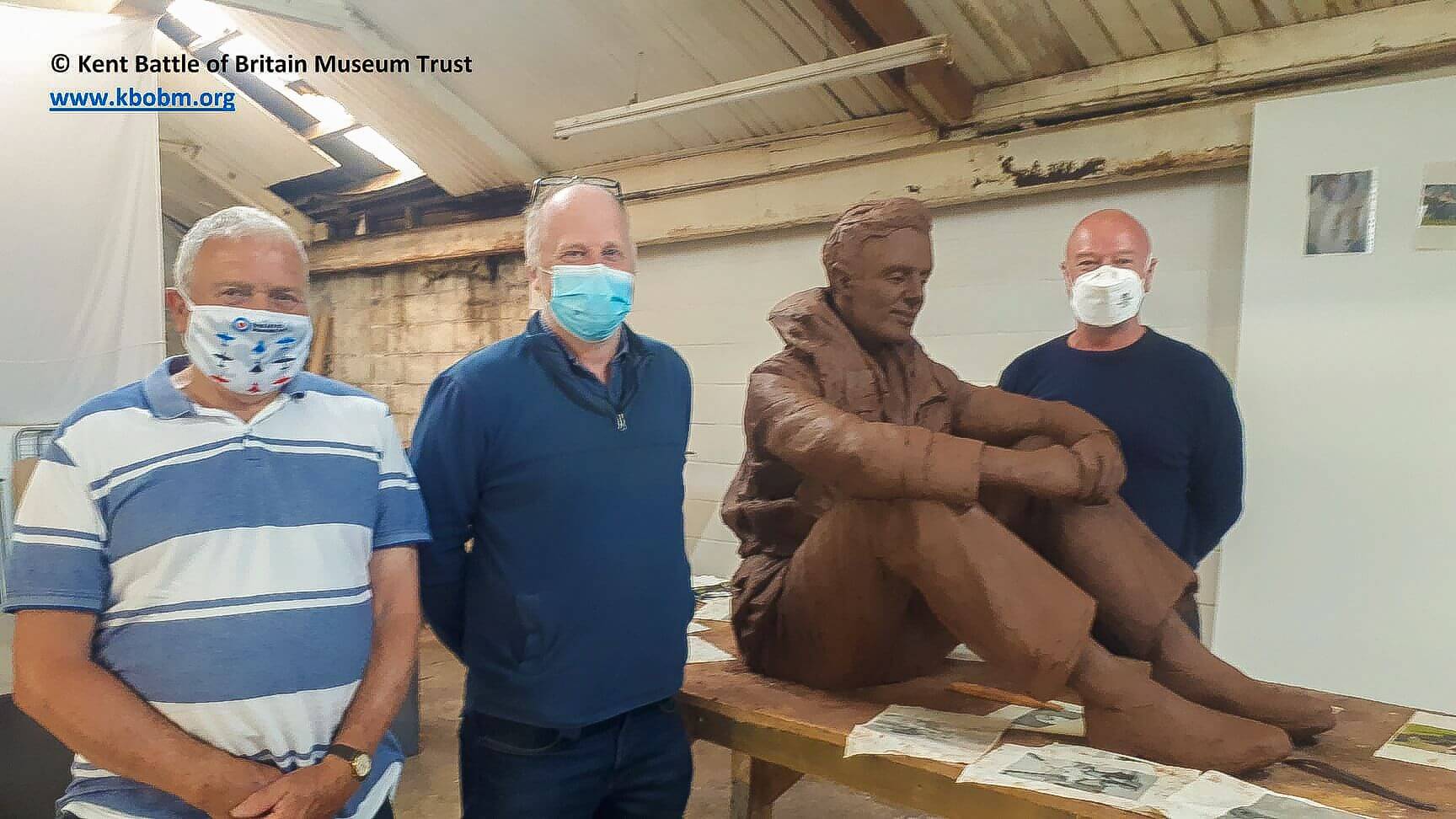 On Monday afternoon 28th June 2021 Museum Trustees Dave Brocklehurst MBE and Derek Sutton called over to see Sarah Craske and Stephen Melton at Spacers, in part to supply some additional technical information for these sculptors. It also gave both the Volunteers a chance to see the first sculpture in person and say that we were impressed is an understatement!
For Dave it was quite emotional, having thought up the idea over thirty years ago and it was not until last year, when he had a near fatal accident, that he decided it was about time to make it happen. Well here are quite a few photographs of Stephen's progress. We should also add that he is three weeks into the eight weeks required to create each sculptor! The next five weeks will be fine tuning and adding details to the already stunning creation.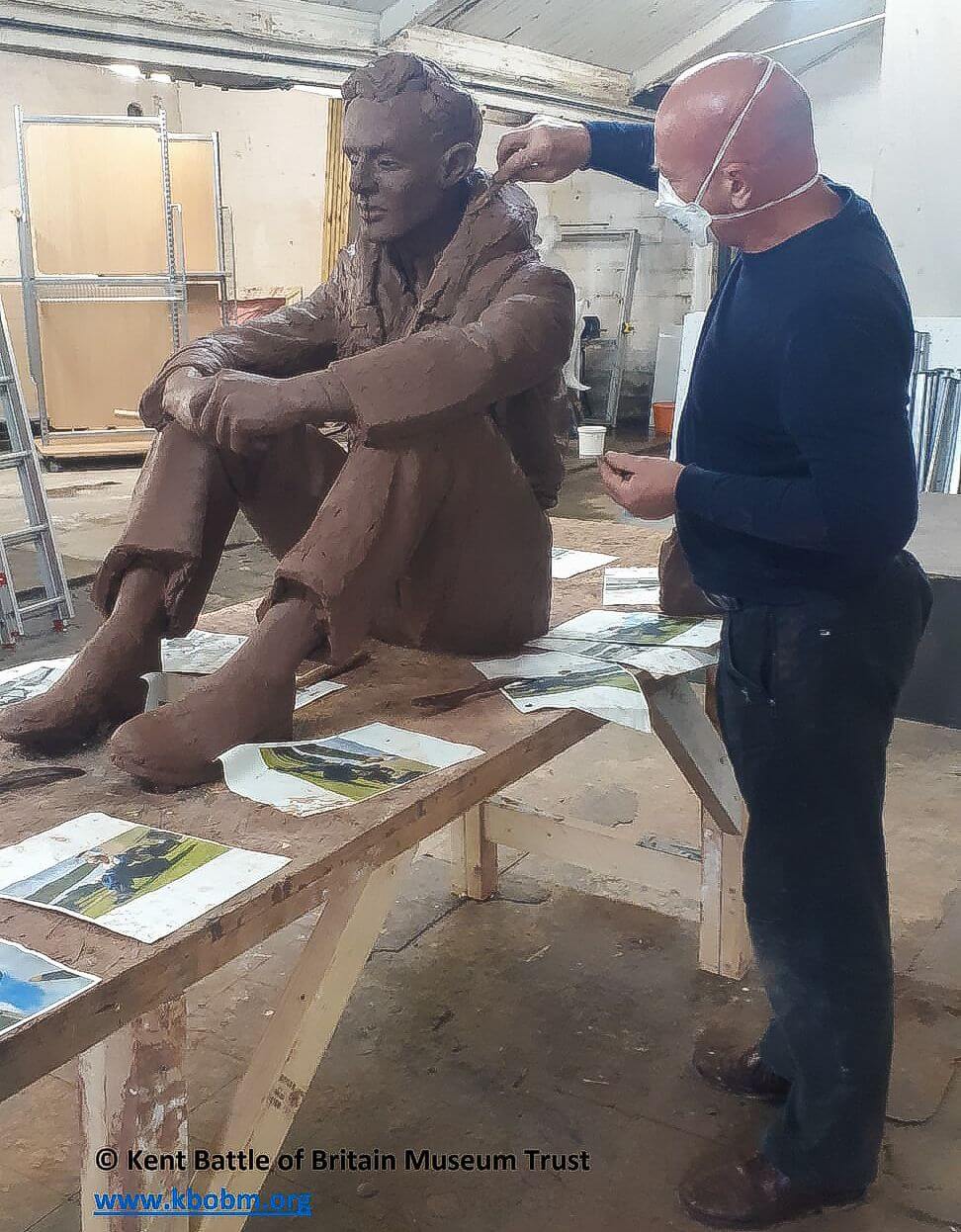 You may ask why it has taken four days to update you on this massive step forward, with the creation of the Memorial, but Dave needed to speak to Keith Gillman's family and share these photographs with his family before anyone else saw them.
Yesterday afternoon Dave spoke to Keith's niece, his nearest next-of-kin, and shortly afterwards, shared these photographs with her. She said 'It looks amazing. Can't wait to show the rest of the family. Thank you.'
11 June - A week of Diplomatic visits.
Our week ending 11 June included visites from Embassy staff from the Czech Embassy and also the Slovak Embassy London
On 8 June Col Jiří Niedoba, Czech Defence Attaché, revisited the Museum in his final few days in the UK before returning to the Czech Republic and retirement. For this trip he was accompanied by Brigadier General Petr Čepelka, of the Czech Air Force and his wife Eva Čepelková.
For Colonel Jiří Niedoba it was a return visit, having previously visited in 2019, but for Brigadier General Petr Čepelka and his wife it was their first visit. They were highly impressed by all they saw and one thing we know it was their first visit but certainly won't be their last!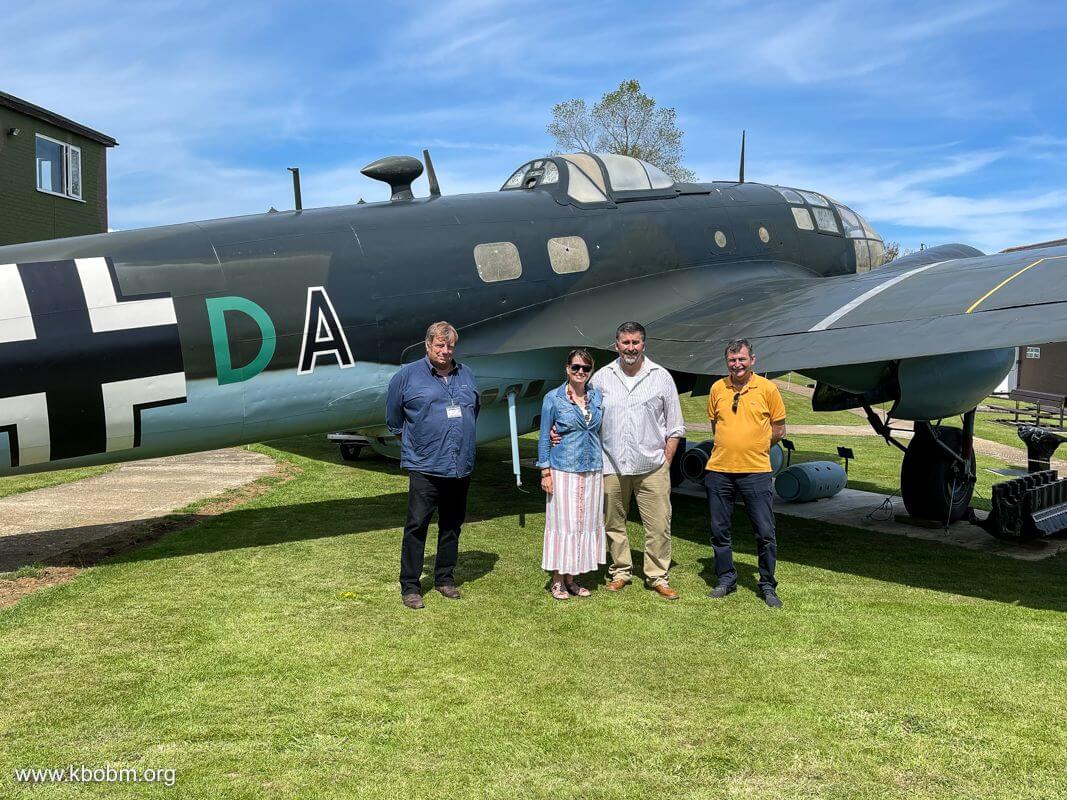 On 10 June, we were honoured that His Excellency Ambassador Róbert Ondrejcsák and Col Vladimír Stolárik, Defence Attaché, from the Slovak Embassy visited us to learn more about the 88 Czechoslovak Battle of Britain pilots.
This was the Ambassador's first visit to the Museum, since his arrival to the UK in January to take up his new post. For Col Stolárik, this was his 2nd visit to us, having previously visited in October 2020.
Sadly their tour had to be a whistle stop one as they had to be back in London by 3.30pm for a meeting but it did allow them several hours to tour the Museum, and before heading back to London they stopped in to our friends at the Battle of Britain Memorial at Capel-le-Ferne to lay a wreath at the Memorial.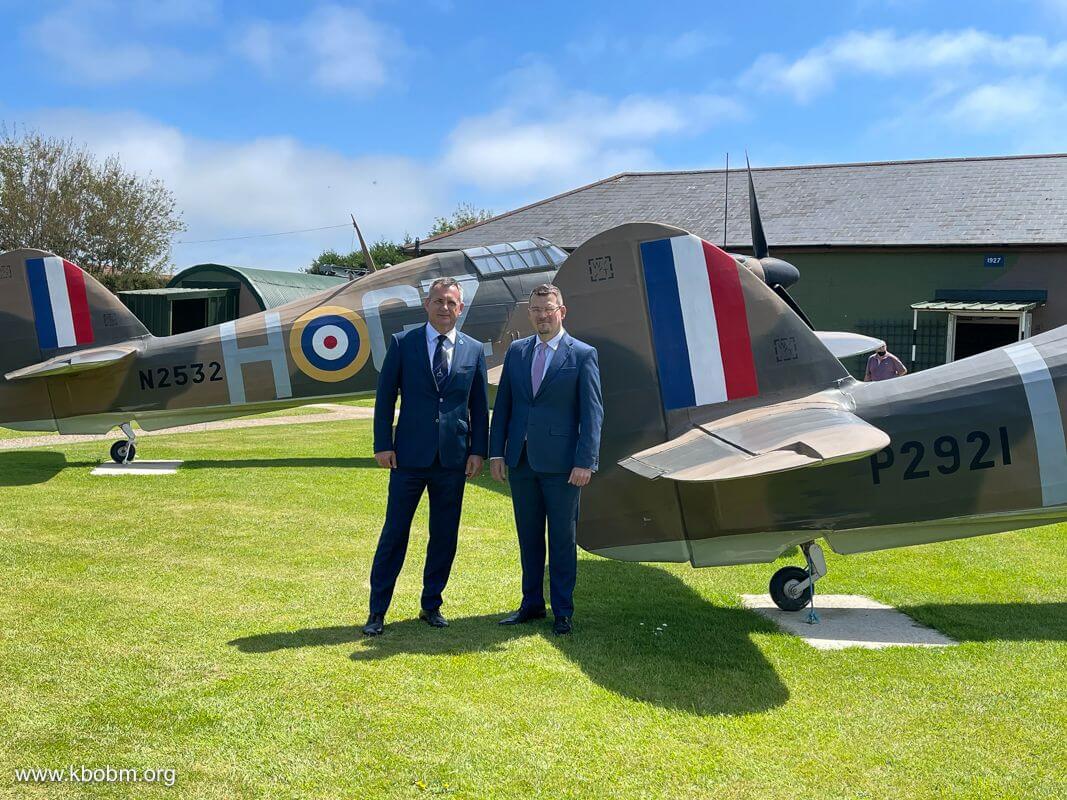 1 June - Operation Room Clock restored.
Our good friend of the Museum, Chris Gannon, who, over the last few months has been restoring and servicing an 'Alf Batt' copy Operation Room Clock that has hung in the Lord Dowding Memorial Hangar since 1990. The clock externally looks spot on to an original (the original RAF Biggin Hill Operation Room Clock can be seen on display in the Armoury) but the mechanism inside caused Chris many problems over the last few months. Chris has successfully cleaned, rebuilt and altered the clock mechanism so it can manage the large hands of the clock, and completely restored the case etc.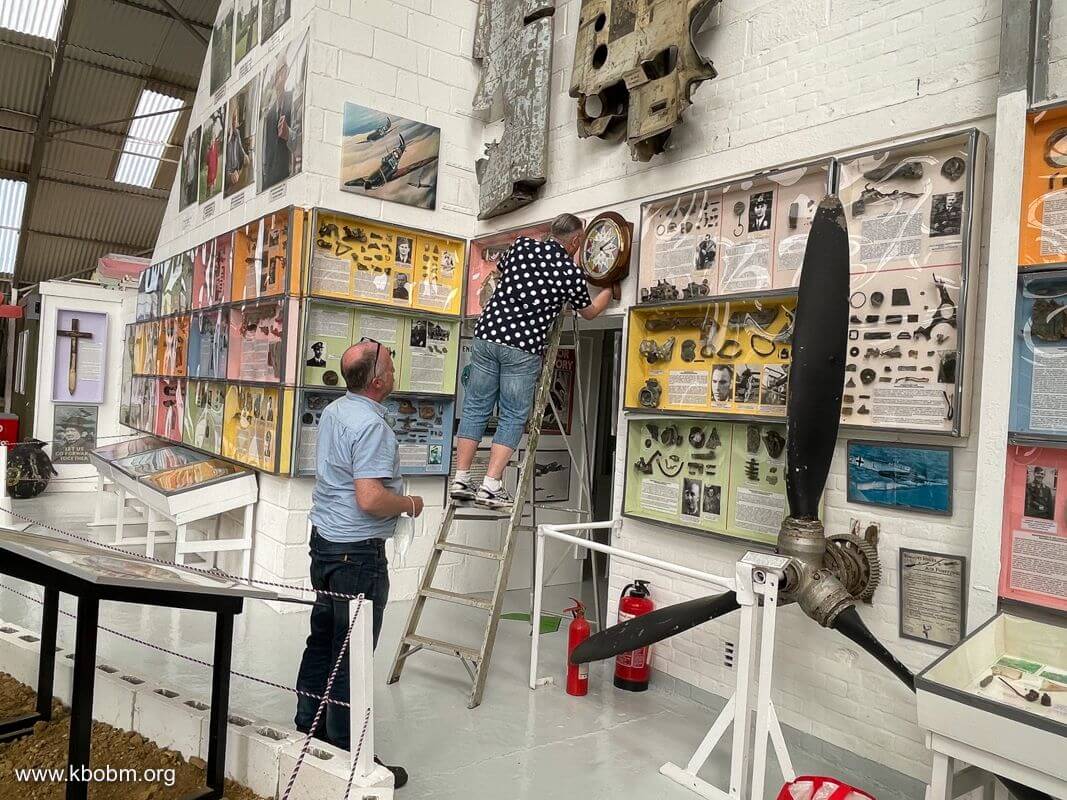 The clock looks absolutely stunning, and between Dave and Chris they rehung the clock back in its usual location in the Lord Dowding Memorial Hangar.
Of course this has now given Chris another job! Calling in a couple of times a week to wind the clock!!!
17 May - Day 7 of 7 day countdown to re-opening on 18 May
The Armoury.
16 May - Day 6 of 7 day countdown to re-opening on 18 May
The Grounds.
15 May - Day 5 of 7 day countdown to re-opening on 18 May
The No.25 Squadron Mess and Tea Room.
14 May - Day 4 of 7 day countdown to re-opening on 18 May
The Operations Block.
13 May - Day 3 of 7 day countdown to re-opening on 18 May
The Lord Dowding Memorial Hangar.
12 May - Day 2 of 7 day countdown to re-opening on 18 May
The Stuart Buttle Hangar.
11 May - Day 1 of 7 day countdown to re-opening on 18 May
Welcome and the Museum shop.
1 May - The Dulcettes
Too hear how seriously good our Hawkinge neighbours Holly Chambers and Victoria Bass, aka The Dulcettes are, a medley of them singing live at the Kent Battle of Britain Museum Trust at Hawkinge earlier today, Saturday 1st May 2021, and during this weekends event in the Museum Grounds.
The Volunteers would like to extend their sincere thanks to Holly and Victoria for kindly agreeing to do the 'spontaneous gig' today at the Museum and allowing us to share some of their performance here with you all.
21 April - Special Pre Season Event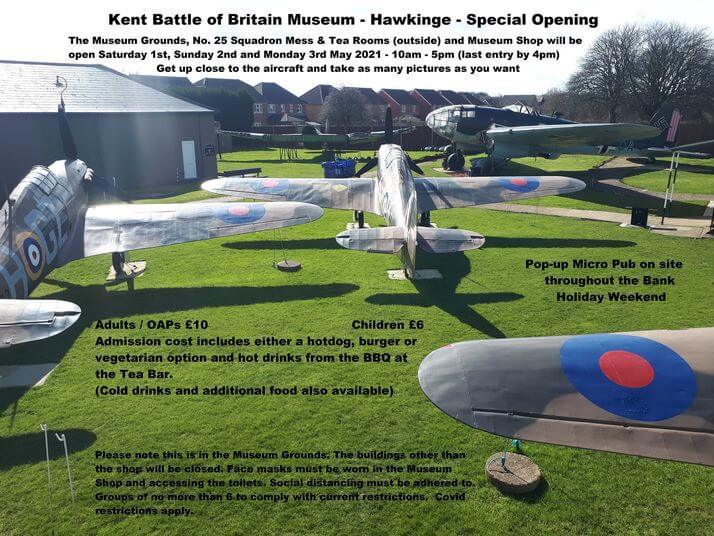 We sadly cannot reopen the Museum until Tuesday 18th May 2021, at the earliest, but we can open the Grounds, so on the May Bank Holiday (Saturday 1st, Sunday 2nd and Monday 3rd May 2021) we are opening the Museum Grounds, the No. 25 Squadron Mess and Tea Rooms are providing a BBQ, and the Museum Shop will also be open.
To make the weekend more special, you will be able to get up close to the aircraft and be able to take as many photographs as you like. We are also hoping to have a few reenactors on site with the aircraft.
The admission cost will be: Adults / OAPs £10 and Children (15 and under) £6. This will give you access to the Museum Grounds but entitle you to either a hotdog, burger or vegetarian option from the BBQ and hot drinks during the day. Cold drinks and additional food will also be available.
We will have a 'Pop Up Micro Pub' on site throughout the Bank Holiday Weekend too (available to paying visitors only).
Please note that this is in the Museum Grounds only. The buildings will be closed other than the shop and toilets. Face masks must be worn in the Museum Shop and accessing the toilets.
Social distancing must be adhered too at all times. Groups of no more than 6 to comply with current restrictions. All Covid Restrictions apply.
We hope you will be able to join us and help the Museum raise some much needed funds and make this event a great kick start to the 2021 Season.
26 March - Re-opening 18 May 2021
9 February - Weapons Room Refurbishment Winter 2020/2021
One of this Winter's refurbishment projects this winter was the rebuilding of the Weapons Room display in our Armoury building.
Within hours of the Museum closing in November, museum volunteers began to strip out the existing display cabinets of exhibits and remove those cabinets. This short video shows how the project has progressed:
Sadly due to the Covid Pandemic Lockdown, what started as a team of volunteers has ended up with just one being able to progress this project. It does clearly show just how much work goes into these projects, using a wide range of volunteers and all offering the Museum a wide range of skills.
3 January 2021 - A year on
A year ago in December 2019, we, the Kent Battle of Britain Museum Trust at Hawkinge announced the arrival of the first sections of the former Imperial War Museum CASA 2.111B / Heinkel He 111H-16.
To celebrate this (we are very proud of our achievement) here is a short video interview recorded earlier with our Dave, the Museum Chairman, Historian and very proud Volunteer.
For further information on the Heinkel Project and a sequence of photographs showing the progression of her restoration, please have a look at the dedicated Heinkel page on this website:
23 November - We need your help!
This is a copy of the Kent Battle of Britain Museum Trust at Hawkinge Christmas Wish list for our Heinkel He 111H-16 project.
Engine Bearers (second set as we have one set already)
Engine mounts (from engine to engine bearers)
Cowlings (in any condition)
Main undercarriage wheel tyres
MG 15 Machine Guns (we have three but need another three)
Cockpit main control panel
Bomb Bay equipment (bomb boxes etc)
Tie downs (for the wings)
The project has come a long way since the fuselage and centre section arrived in March this year but we need your help to progress this further. We are talking to people and organisations around the world already but we might have missed some one.
If you can help, maybe have some of these items, share to a Group or Friend, promote around Facebook etc we would be very grateful.
The Heinkel He 111H-16 is a static rebuild so we can consider a wide range of conditions of any of these items. If you can help please contact Dave Brocklehurst MBE from the Kent Battle of Britain Museum Trust info@kbobm.org.
Please visit our dedicated page for the
Heinkel
project to see the progress that has been too date and please bear in mind we are all volunteers and receive no official support other than admission fees and donations from you are friends, supporters and visitors: www.kbobm.org/heinkel_project.html
30 October - Visitors from the Slovak Embassy
Amongst the 120+ visitors to the Kent Battle of Britain Museum Trust at Hawkinge today, Friday 30th October 2020, were HE Ľubomír Rehák, the Slovak Republic Ambassador, Col. Vladimír Stolárik, the Slovak Republic Defence Attaché and Martin their Chauffeur.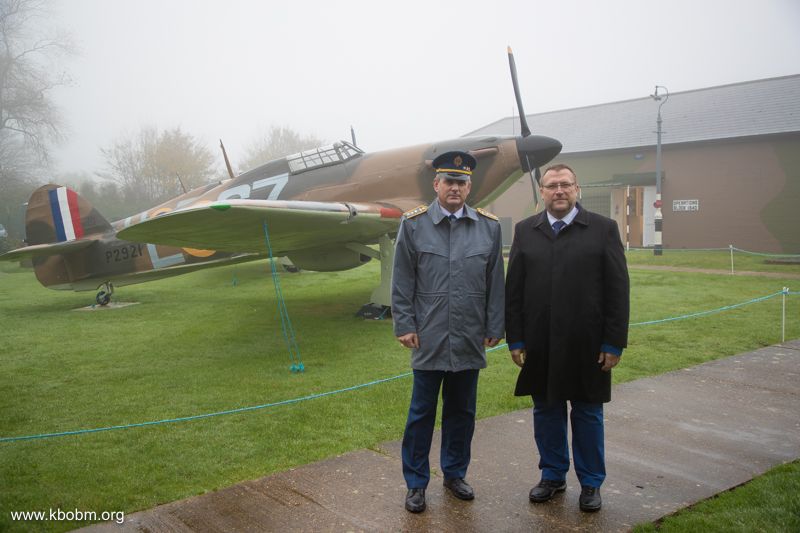 HE Ľubomír Rehák is the third Ambassador to visit the Museum this year and despite the Covid pandemic!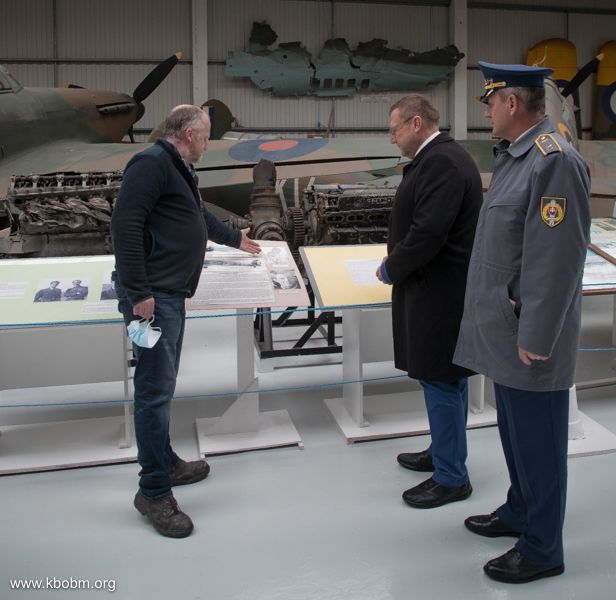 Museum Chairmman Dave Brocklehurst MBE took the opportunity to show our honoured guests some of the artefacts of a Heinkel He 111H that he and some of the Museum Volunteers had excavated from the former Woolwich Arsenal back in 1986. This is the Heinkel that is represented in the colour scheme we chose for our very own example. One of the airmen that claimed the destruction of this Heinkel on 15th September 1940, later known as Battle of Britain Day, was Sergeant Bohumir Furst of No.310 (Czechoslovak) Squadron who was born in Opatovice, Moravia, Czechoslovakia.
Before they left our honoured guests laid a Slovak flag at the Hawkinge Airfield Memorial.
5 October - ITV Meridian TV report
If you are not in the ITV Meridian region or missed tonights (Monday 5th October 2020) programme, please click here to watch the news feature .
It features the biggest project the Kent Battle of Britain Museum Trust has ever undertaken, the creation of a ground breaking Memorial in the grounds of the Museum at Hawkinge. It will include interviews with Stephen Melton from Spacers (from Thanet, not Folkestone as reported) and the Museum Chairman and Volunteer, Dave Brocklehurst MBE.
We are still setting up our JustGiving Page but in the meantime you can make a donation to the Museum and help us create this stunning Memorial via Paypal account: d.a.brocklehurst@btinternet.com
The Memorial will represent the seven airmen of No.32 Squadron who were famously photographed at RAF Hawkinge on 29th July 1940 and taken only a couple of hundred yards from where the Museum is now housed. The Memorial will see the airmen created in full-size and cast in bronze.
26 September - LANDMARK ANNOUNCEMENT
The Volunteers at the Kent Battle of Britain Museum Trust at Hawkinge are incredibly excited, pleased, and proud to announce our latest and most significant project in the fifty-five year history of the Museum. It will see the creation of a permanent Memorial to our heroes 'The Few' within the Museum Grounds.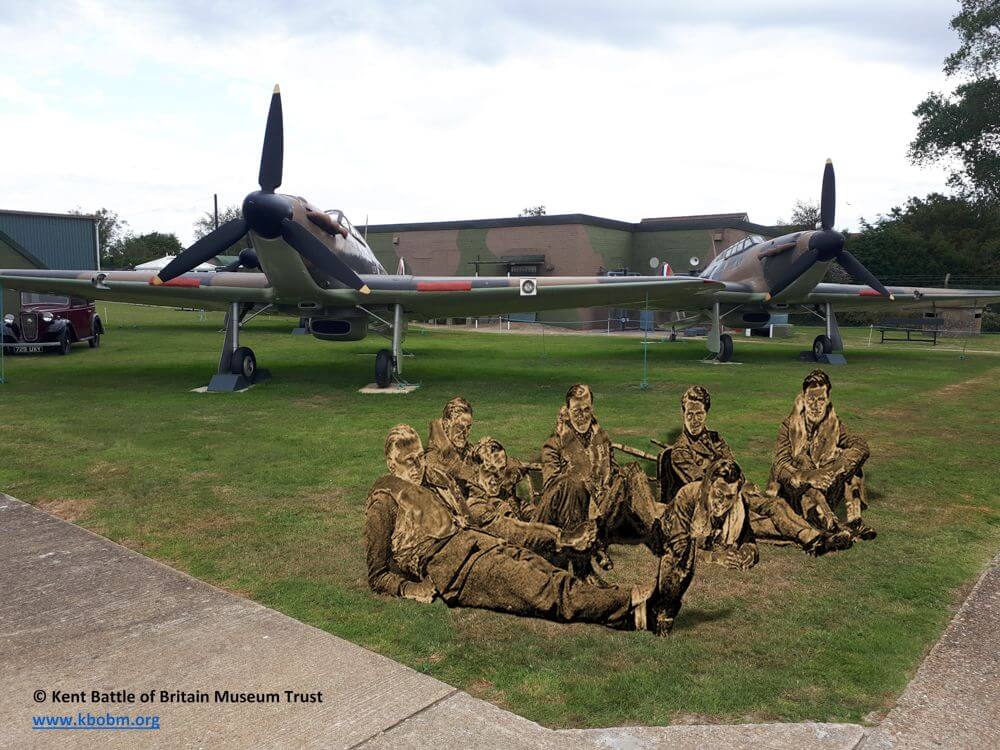 The Memorial will represent the seven airmen of No.32 Squadron who were famously photographed at RAF Hawkinge on 29th July 1940 and taken only a couple of hundred yards from where the Museum is now housed. The Memorial will see the airmen created in full-size and cast in bronze.
The idea was thought up by Dave thirty odd years ago. For around twenty years we have had the three Gate Guardian Hurricanes on display as a centre piece in the Museum Grounds and every time Dave walks past, he has visualised the seven airmen in bronze in front, with the backdrop of these Hurricanes. So much so that ten years ago he did a pencil sketch of what he imagined it would look like!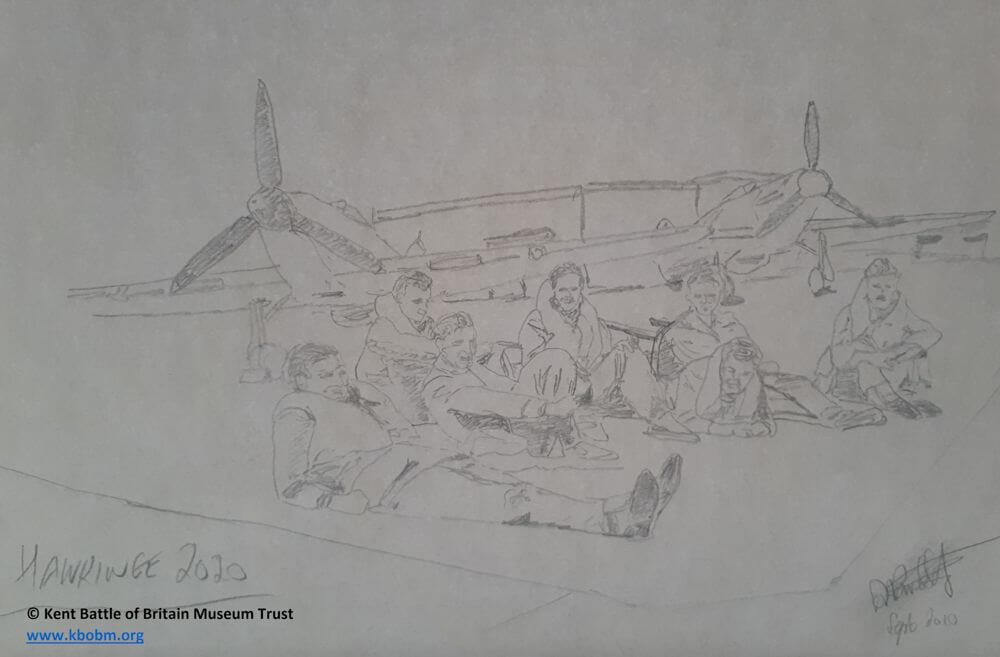 Fast forward to May this year when Dave had a serious accident at the Museum. This caused him to focus on several major projects he has always wanted to progress. After chatting with his fellow Trustees and Volunteers, all of whom were excited by this idea, he sorted various quotes from sculptors around the country to see if this was a viable project. From a suggestion by Jane Priston of the Amy Johnson Project, Spacers from Ramsgate were one of those who quoted. Dave was aware of the quality of their work from the Amy Johnson statue on the Herne Bay Seafront and the Gurkha Memorial in Folkestone. We also liked the idea of the Amy Johnson Memorial not being on a plinth so that the public can interact with the figure. This will be a feature of our own Memorial so the figures will be displayed sitting on the original grass of Hawkinge Airfield. Fellow Trustee, Richard Windrow, was also a massive help having previously worked as a sales director for a specialist sculptor company.
Luckily for us, Spacers came up with the most realistic quote and will carry out all phases of the work in-house at their studio at Newington. From sculpturing in clay, to moulding and the casting in bronze. They are also less than 40 minutes away from the Museum, so we can keep a careful eye on every step of the process and Spacers can visit us for inspiration and for all the research that will be required to make each figure as realistic and accurate as possible.
On Monday 21st September 2020 Dave, Richard Windrow and Derek Sutton, together with Jane Priston, visited Spacers Studio to discuss the Commission and to see in detail every step of the process required to create such an outstanding and ground-breaking Memorial. There they met Stephen Melton, Sarah Craske and Karina Craske who will be leading on this project and to say that all were impressed, would be an understatement! The Memorial will take a year to create, which means it will be unveiled on Friday 29th July 2022, the 82nd Anniversary of the historic photographs being taken.
Since Monday, the Trustees have been consulting with Ed Hawkes, our fourth Trustee, who due to Covid Regulations was unable to attend the meeting, and Peter Griffiths, our Honorary Secretary. Details of the quote have been ironed out and all the Committee have voted to proceed with the order, which led to Dave ringing Karina at Spacers yesterday morning to award them this Commission.
Museum Volunteer, David Hertz, is using his genealogy research skills to find the descendants of each of the airmen. Dave B has had conversations with several of the families already and all have been extremely excited by this project.
More details will follow and will include how you can be directly involved with this exciting project. This will be from donating, to attending fund raising events and even possibly posing for the statues!
We are in the process of creating a JustGiving Page and this will be one of the main avenues that you can donate to this project.
Please tell us what you think?
Many Thanks as always…
Foot note: Dave has always hoped we would acquire all the adjacent bombed out hangar bases and fuel installation, which would have meant the Memorial would have been sited on the original spot where the photograph was taken. Sadly, and although we have been trying to acquire this land since 1990, the current owners are still trying to get permission to build around one hundred houses on this area. The Local Authority has agreed that the Museum must gain a minimum of 1.09 hectares but obviously the land must and needs to be adjacent to our current site. This means it is highly unlikely that we will acquire the piece of ground where the world-famous photographs were taken. Also, several of the former Senior officer's houses in the background of these iconic photographs have been pulled down to make way for modern housing, therefore destroying the historic skyline
---
15 September - 80th Anniversary - Battle of Britain Day
Here is a Very Special Message from a Very Special Man and Hero, our last known surviving member of 'The Few', Group Captain John 'Paddy' Hemingway;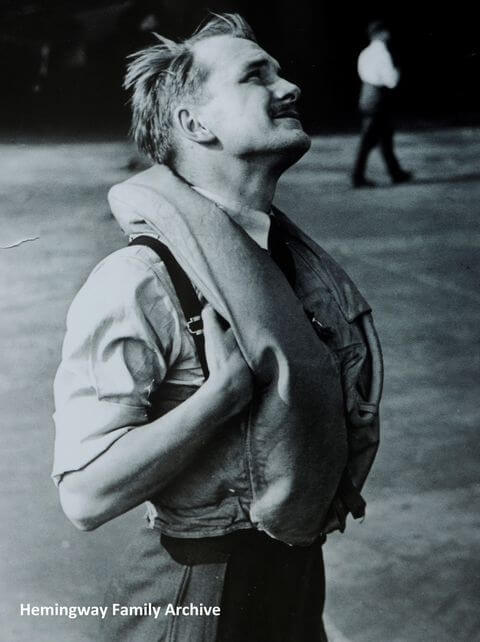 'For many of us the 80th Anniversary of the Battle of Britain is a time to reflect. I would like to thank everyone for remembering myself, my friends and colleagues on this of all days, 15th September 2020.'
'It is a sad reality our memories fade over time, especially mine. That's why The Kent Battle of Britain Museum at Hawkinge is so crucial. It enables us to remember and keep alive the experiences myself and others had during those dramatic months, forever.'
Group Captain John "Paddy" Hemingway DFC AE - 14.09.2020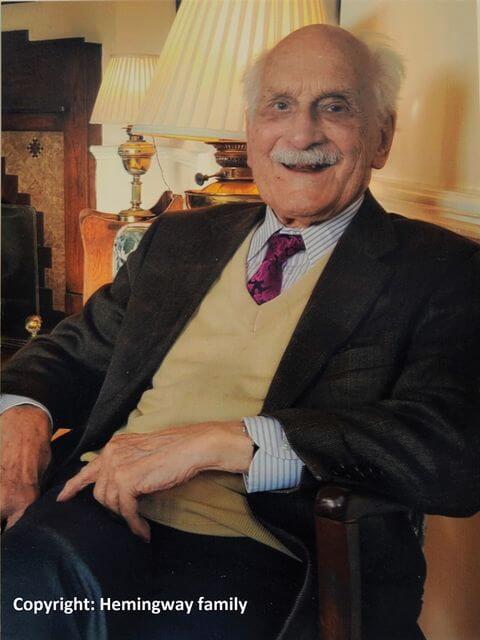 ---
25 August Busiest Day!
Some fantastic news from the Volunteers at the Kent Battle of Britain Museum Trust at Hawkinge that today, Tuesday 25th August 2020, has been the busiest day for the Museum in its fifty-five year history!
With all the dome and gloom in the world at present we thought we would share this brilliant news, and say a massive big thank you to the nearly 250 visitors we welcomed to the Museum today.
Not bad when you consider that due to the covid pandemic we have lost all coach trips this season, the vast majority of foreign visitors (around 25% of our annual visitors) and a large percentage of our over 70s (are core visitor group) who are still be cautious or in isolation.
Our previous record was set on 18th August 2015 on the 75th Anniversary of the Hardest Day.
The Museum and No.25 Squadron Mess and Tea Rooms are open Tuesdays to Sundays 10 am to 5 pm, with last entry by 4pm. Closed Mondays except this coming Monday 31st August, being a Bank Holiday. We are not operating a pre-booking system.
---
3 July Mayors Charity Donation
We were also very pleased to greet the Mayor and Mayoress of Hawkinge, Glyn and Sandra Hibbert, who called in to present Dave Brocklehurst MBE, on behalf of the Museum and Volunteers, a cheque for £500 from the Mayors Charity. The money will be used towards the purchase of the engines for the Heinkel He 111H-16.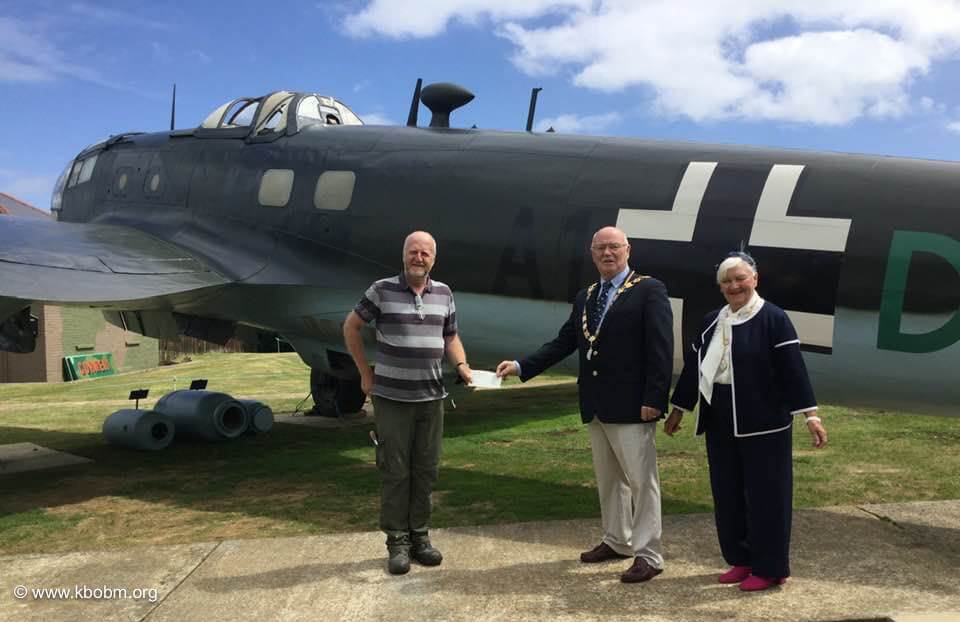 ---
30 June Important Announcement - We re-open 4 July!
Great news and what we have all been waiting too hear and that is the Kent Battle of Britain Museum Trust at Hawkinge is re-opening to the General Public at 10am this Saturday 4th July 2020.
We have had a second and this time, an independent Covid Assessment and thanks to James Tonge. We have four days to place additional signage around the Museum but otherwise are good to go.
We are also very pleased to announce that the No.25 Squadron Mess and Tea Rooms will also be re-opening on Saturday, although they will not be able to offer a full menu due to some uncertainly in the supply chain of certain supplies of food.
We would ask all visitors to pay by chip and pin, to save the handling of any cash. One person from each group should supply us with a name and contact phone number to help with contact and trace with the current Covid Pandemic. Please allow additional time on entry to the Museum, so you may encounter some queues at the entrance.
We are recommending that all Volunteers wear face masks and would suggest that anyone visiting brings and wears their own masks.
Finally and very importantly, we would ask that all visitors respect the 1mtr + social distancing rules and particular in relation to other visitors and our wonderful volunteers.
The Museum and Mess will be opening as our usually advertised hours of opening.
We look forward to welcoming to the Museum in this important year, the 80th Anniversary of the Battle of Britain.
Many thanks
Dave Brocklehurst MBE - Chairman / Volunteer
Kent Battle of Britain Museum Trust Ltd
---
30 June - Whilst the Museum has been closed over winter
Its not just our Heinkel III which has received attention over the winter period. Whilst the museum has had to be closed to the public since 18 March 2020, a lot have changes have been happening during that period, particularily since the government lock-down regulations have recently eased. This enabled some museum volunteers to come in and prepare for re-opening. New exhibits were also obtained by the museum as well. Some examples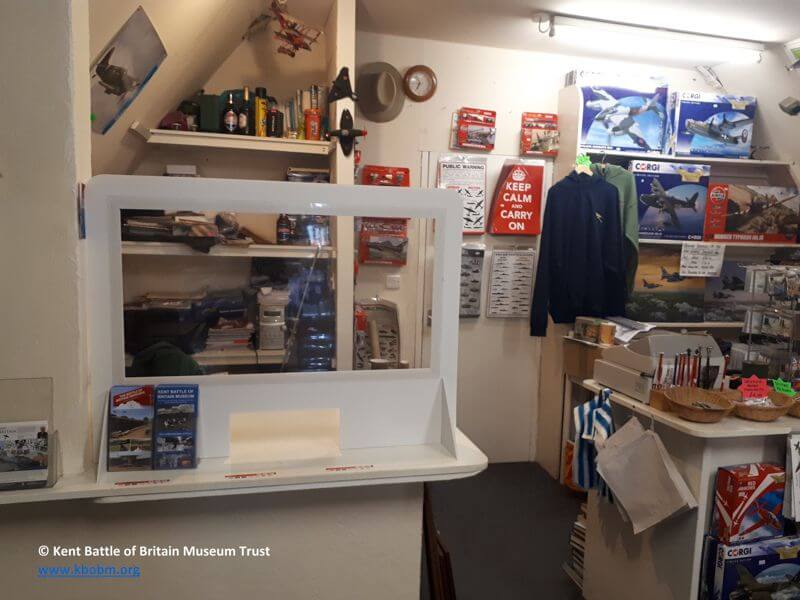 A new covirus-19 screen has been included at the Museum reception.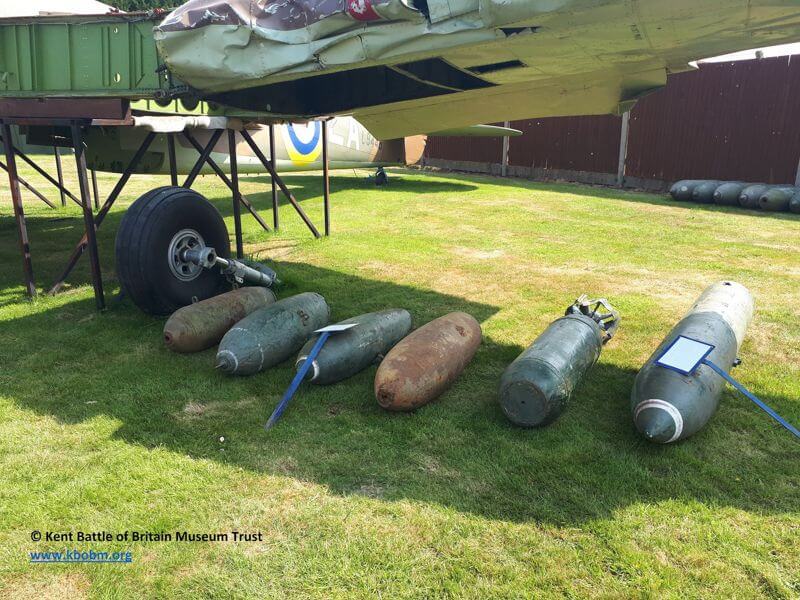 Some WW2 period bombs donated by No.5131 (Bomb Disposal) Squadron, the last RAF Bomb Disposal Squadron.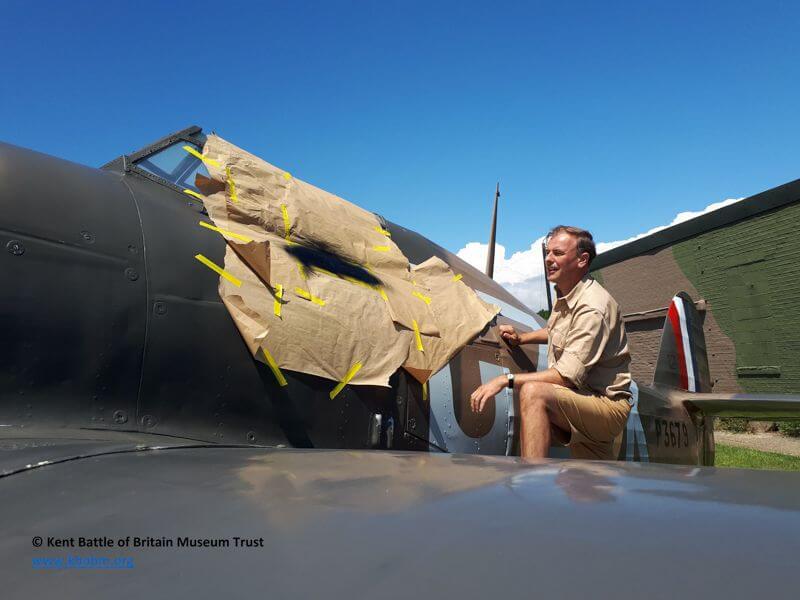 Museum volunteer Rick, adding stencil markings to our Hurricanes.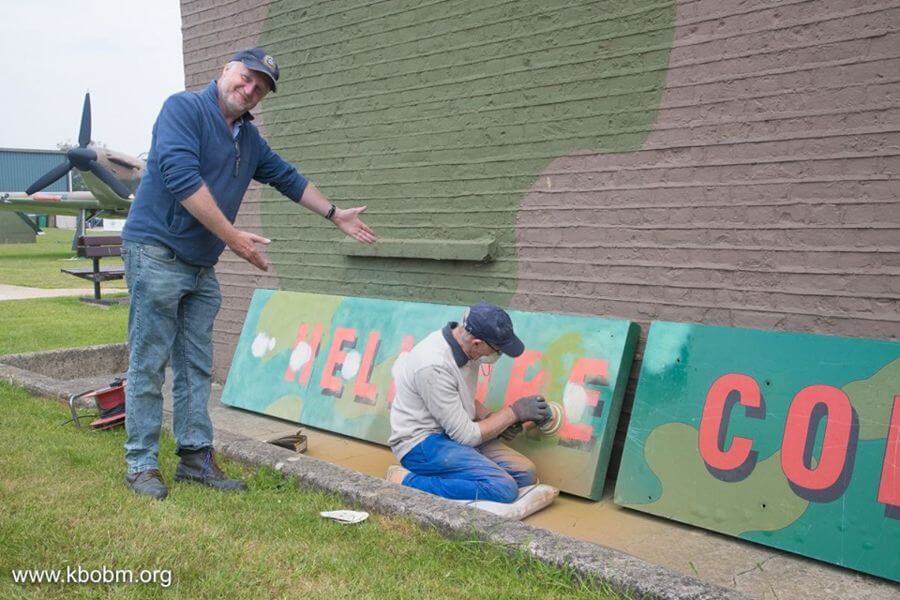 While museum volunteer Robbie has been preparing new sign boards donated to us by English Heritage at Walmer Castle.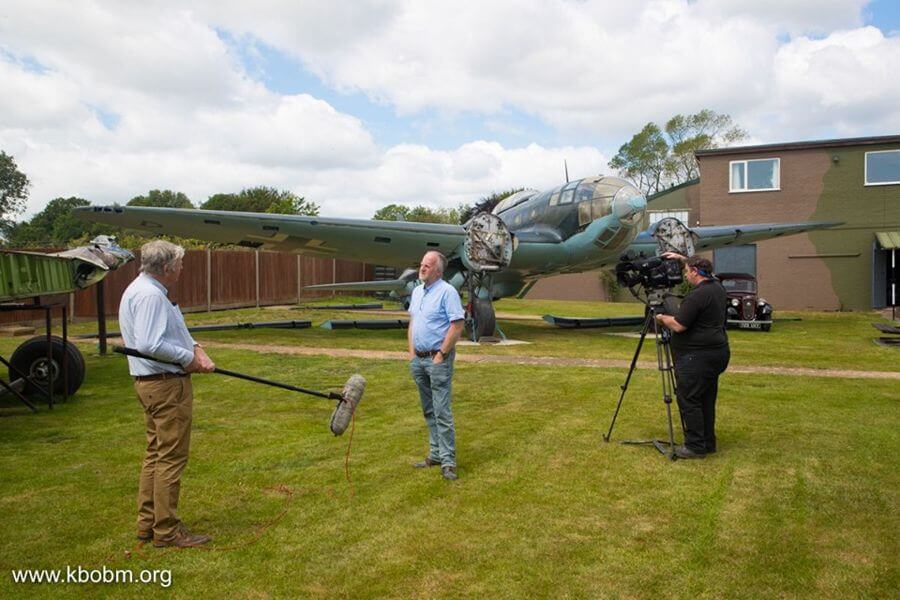 Meanwhile Robin Gibson of BBC South East came down to inteview Dave Brocklehurst MBE about the Heinkel III and his accident. Museum volunteer Rick was also interviewed.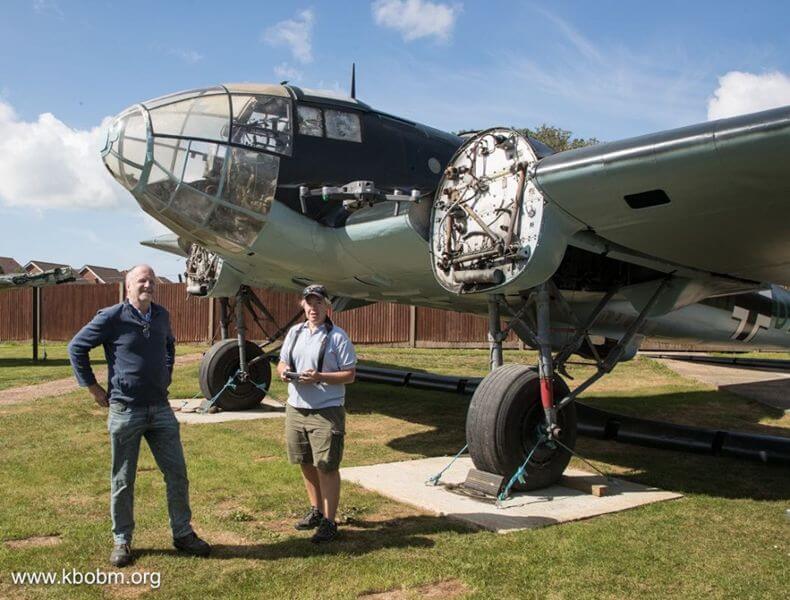 .....whilst earlier that morning Shiv from ITV Meridian had come to do filming a for a follow up story of the restoration of the Heinkel He 111H-16 through the lock down.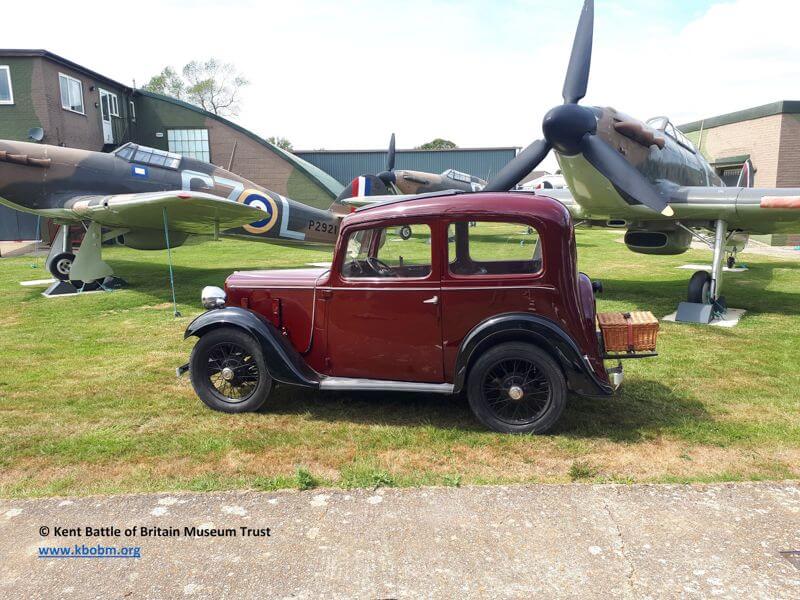 For several months Dave has been looking for a prewar civilian car, to add to the ever growing collection at the Museum. Something that a Battle of Britain pilot would have had as a personal car during this period.
A few weeks ago Julian Richardson spotted that a 1937 Austin Ruby had been recently advertised and let Dave know. The only problem was that the car was for sale in Sheffield! Luckily our Museum Honorary Secretary, Peter Griffiths, lives fairly close by, so after a few conversation between Dave, Peter and the seller, it was agreed that Peter would view the car.
Peter negotiated an agreeable price to both parties and today we were very pleased to welcome the Austin Ruby to the Museum, where she was not only greeted by Dave but also by Derek Sutton (Trustee), Jim Lawrence, Rick Kent and Lucy Cook.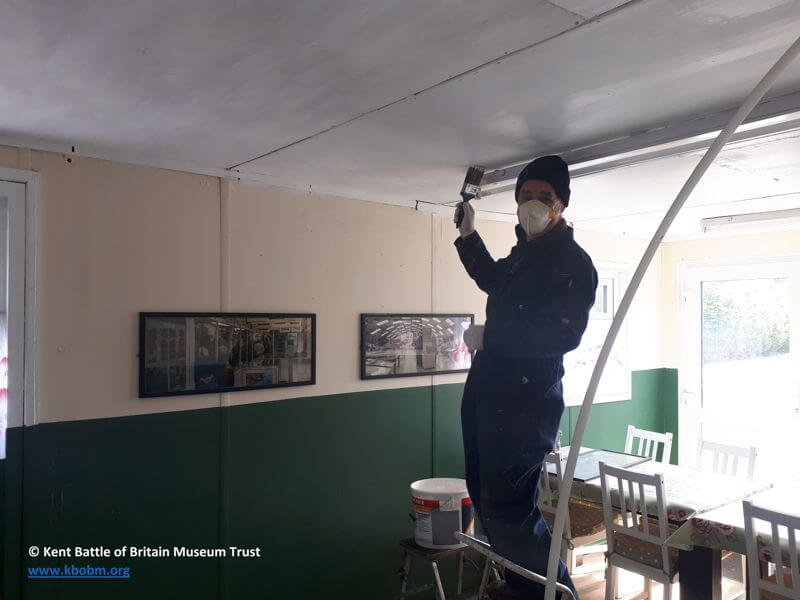 Volunteer Jim Lawrence painting the ceiling in the extension to the No.25 Squadron Mess and Tea Rooms.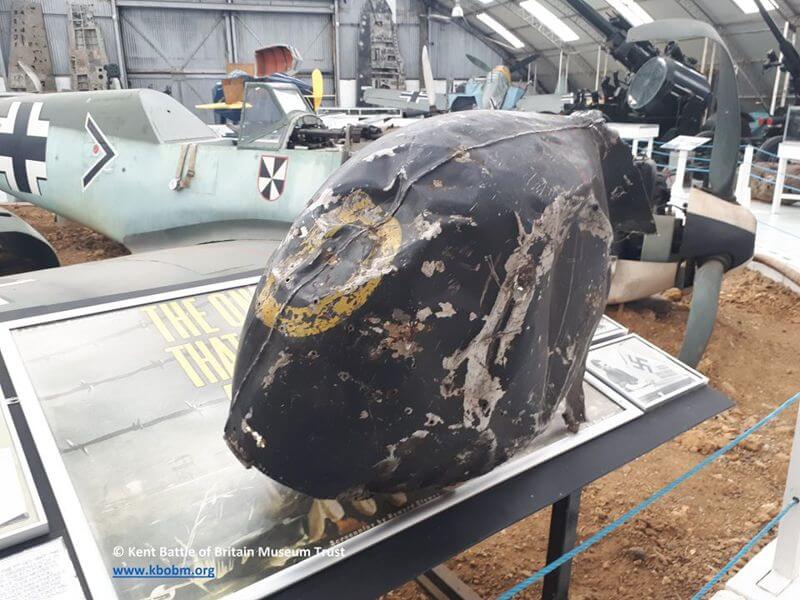 Cleaning and wax oiling one of the two Junkers Ju 87B 'Stuka' dive-bomber main wheel spats that we have within the collection. This one sadly has no known history and although from a 'B' variant, it is believed to have crashed in Russia.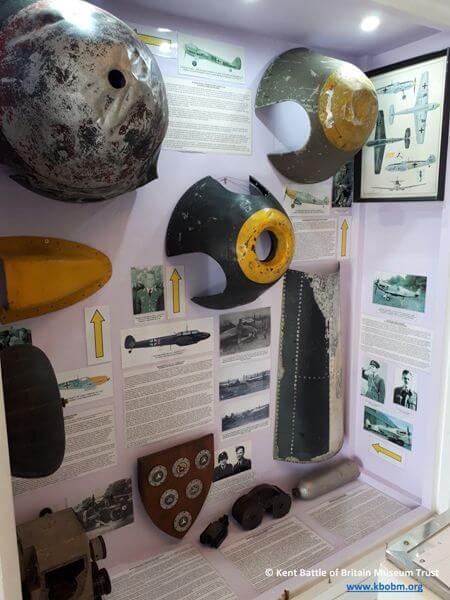 New exhibits have been added to various display cabinets. One of the first to be done was a rare Loftfe 7a bomb-sight from a Heinkel He 111H that crashed at Old Barn Big Field, Hildenborough on Wednesday 11th September 1940. To fit the display in, a Messerschmitt Bf 110 tail wheel had to be re-positioned including drill through the cabinet and fixing a metal supporting bracket. Several other items were moved and added to the cabinet to get the right balance
Dave Brocklehurst MBE added a beautiful pencil sketch by Flt/Lt. Ian D. G. Donald of No.141 Squadron who was shot down and was killed when his Defiant crashed in a cornfield near Elms Vale Road, Dover, on 19th July 1940, sometimes referred too as the 'Slaughter of the Innocents.' Sadly there is only one known photograph of Flt/Lt Donald and isn't particularly clear but the hunt for others, is on going. The pencil sketch was kindly donated to the Collection by Joel Diggle.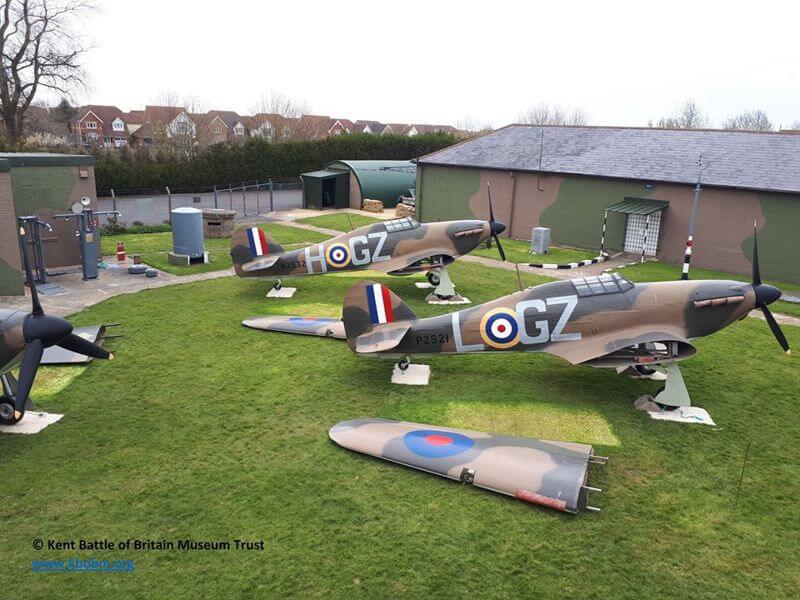 The Hurricane Gate Guardian were taken out from their winter quarters in the hangar.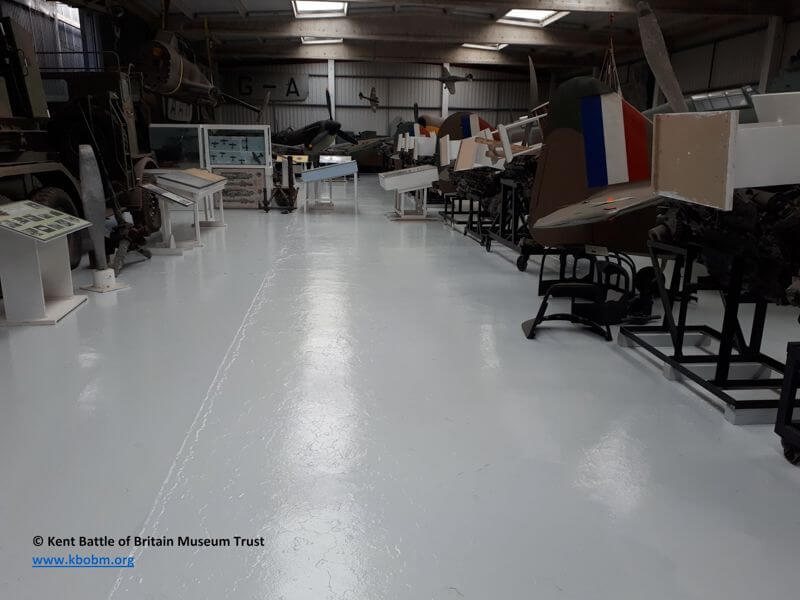 Stuart-Buttle Memorial Hangar floor was repainted in preparation for opening.
---
18 March Important Announcement, please read:-
The Trustees of the Kent Battle of Britain Museum Trust at Hawkinge have been following the daily developing crisis with regards to the Corona Virus Covid 19.
We have taken what we can only describe as the most difficult and yet the easiest decision with regard to this.
The most difficult, after all the incredibly hard work and major developments (on top of this weekends arrival of the Heinkel He 111H-16) that our brilliant volunteers have been carrying out over the winter months, and that we are desperately keen to share with you our supporters, friends and followers of all things relating to the Battle of Britain.
The easiest decision, as the vast majority of our fellow volunteers are 70 years and older, so are at higher risk and therefore as close and long term friends, their health and safety is of paramount importance to us.
Therefore we have taken the decision to delay the re-opening of the Kent Battle of Britain Museum Trust (and No.25 Squadron Mess and Tea Rooms) this year for your safety, as well as ours.
We hope that the situation may improve, sooner rather than later, and therefore we are hoping that we might be able to re-open on Friday 1st May, but this will be reviewed and announced during April, and we will follow the advice given to us by the Government and Local Authority.
In the meantime those Volunteers that wish to continue working on site, will do so (all the time they are legally allowed to do so), expanding and improving the largest collection of Battle of Britain artefacts on show in the World, in preparation for when we can re-open, in this important year, the 80th Anniversary of the Battle of Britain.
Sorry for any inconvenience this might cause but we are sure you can understand our reasoning for this decision.
Many thanks
Dave Brocklehurst MBE - Chairman / Volunteer
Kent Battle of Britain Museum Trust Ltd
---
12 March Preparing the Casa to leave Duxford.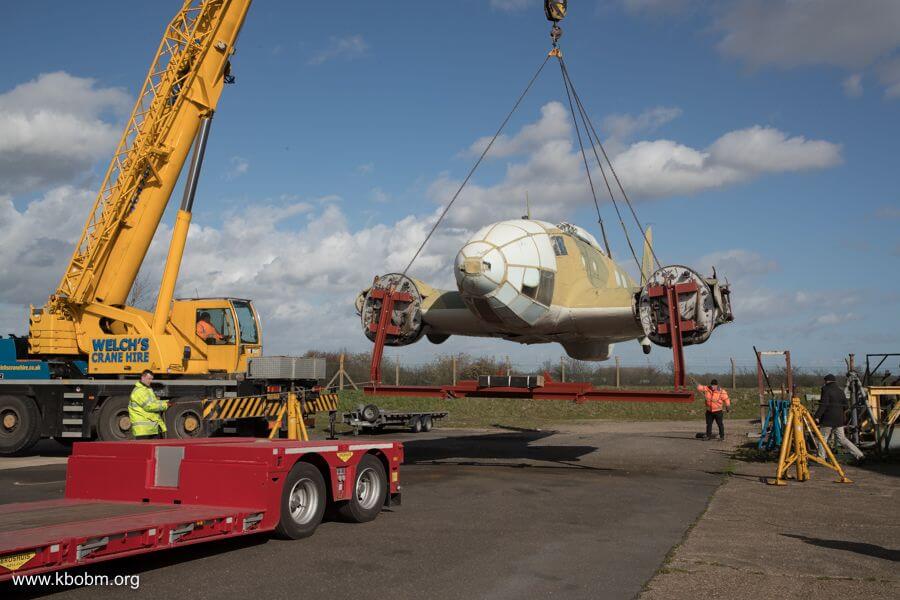 The CASA 2.111B / Heinkel He 111H-16 was loaded by Welch's Specialiest Movemnet and Welch's Crane Hire at the Imperial War Museum at Duxford in preparation for her delivery to the Kent Battle of Britain Museum Trust at Hawkinge.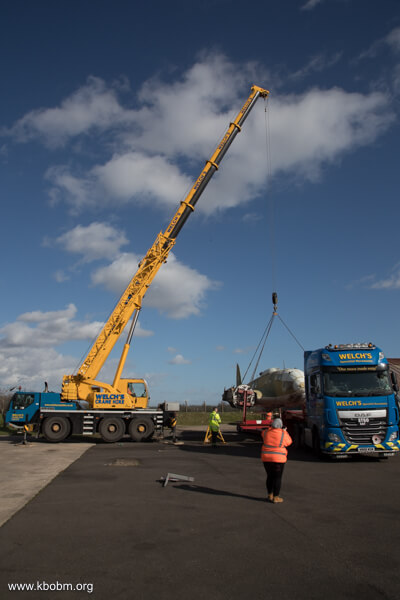 ---
20 February Danish TV at the museum.
Dave was tide up with Michael Schmidt-Olsen and Daniel Schultz-Madsen from Candofilm based at Copenhagen in Denmark. They had flown over from Denmark last night to film elements of a documentary at the Museum today about the tragic events of 13th August 1940 when No.82 Squadron, based at RAF Watton in Norfolk were sortied to bomb Aalborg West Airfield in Denmark.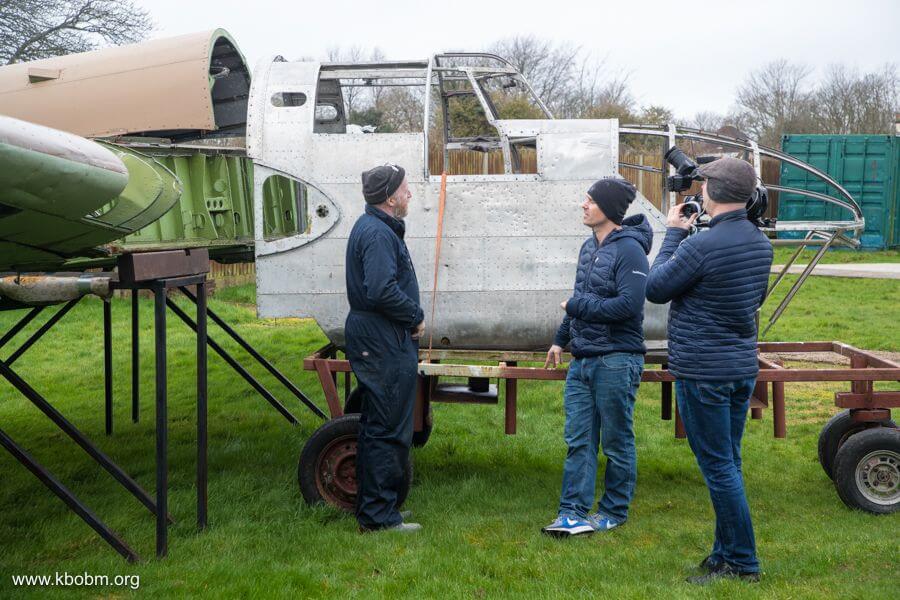 Twelve aircraft took off, although one turned back with technical problems. Reaching the coast of Denmark the safety of cloud cover disappeared and the formation of RAF Bristol Blenheim Mk.IVs were spotted. All eleven aircraft would be shot down, by either flak or the Messerschmitt Bf 109E's of JG 77. Only thirteen of the thirty-three crewmen survived to become prisoners-of-war.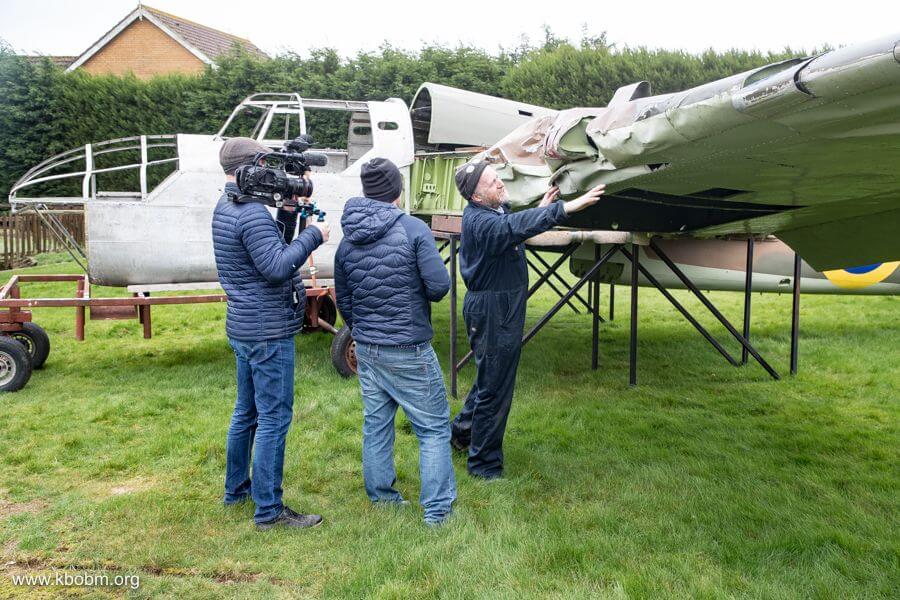 This was the second time that No.82 Squadron had been wiped out in less than three months! On 17th May 1940 twelve Bristol Blenheim's took off from RAF Watton on a bombing sortie to slow down the advancing German Army in Belgium. Eleven would be lost. One to Flak and the other ten to Messerschmitt Bf 109E's, with twenty-two aircrew killed and three made POW's. The one aircraft that returned to base was so badly damaged that it was subsequently written-off.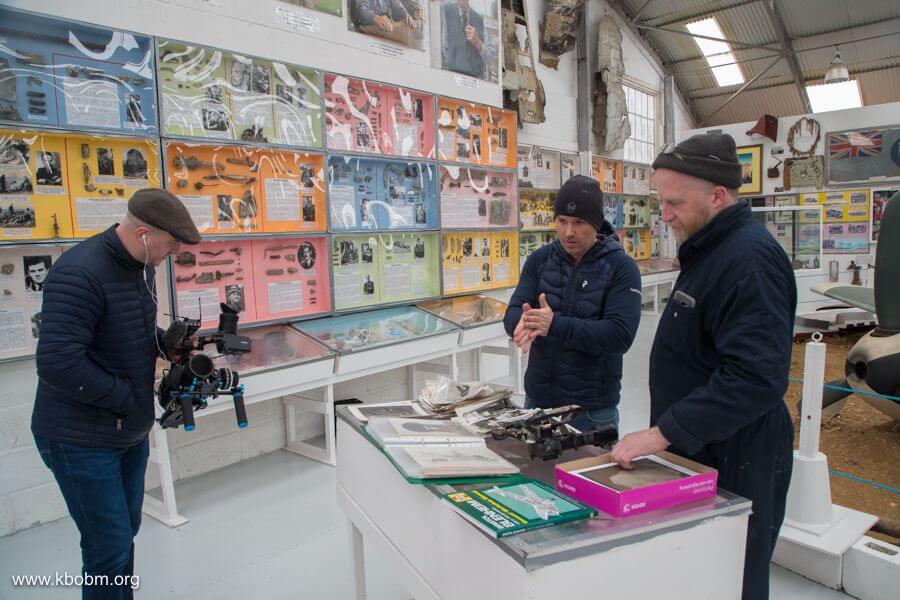 These two tragic events led to a book being written on the No.82 Squadron titled: 'The Squadron that died twice.'
Michael Schmidt-Olsen, the Director / Producer of the documentary, is following this bombing sortie to Aalborg West, minute by minute, for Danish Television but wanted to get up close and personal with a Bristol Blenheim Mk.IV (Bollingbroke) and contacted Dave back in January.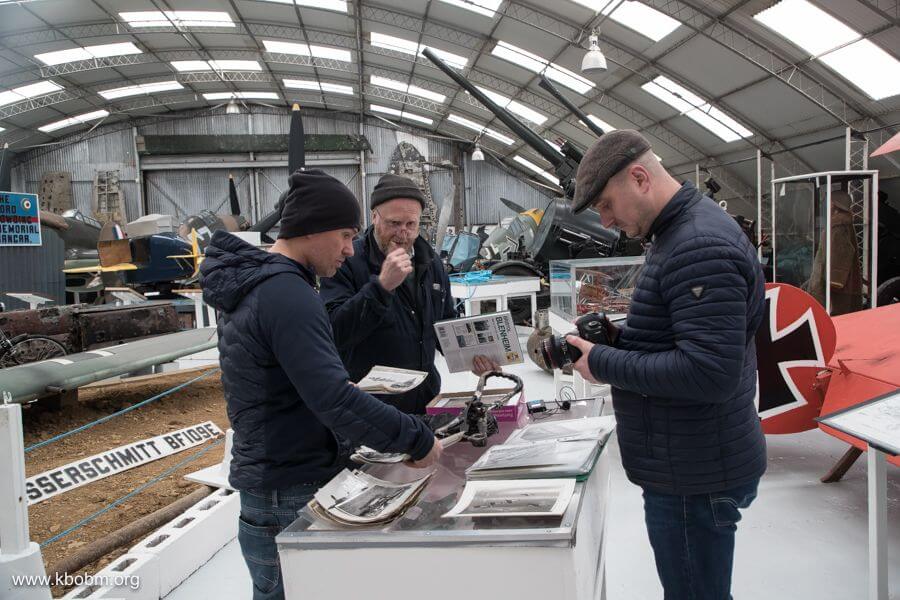 The day was spent interviewing Dave about the history of the Bristol Blenheim, its operational use, the role of the aircrews that flew this type of aircraft and the one going restoration of our example. With the weather deteriorating, they moved into the Lord Dowding Memorial Hangar to interview Dave in front of one of the Museum's three Messerschmitt Bf 109E's, replicas from the Battle of Britain Motion Film, about the process of acquiring, researching and restoring a Bristol Blenheim.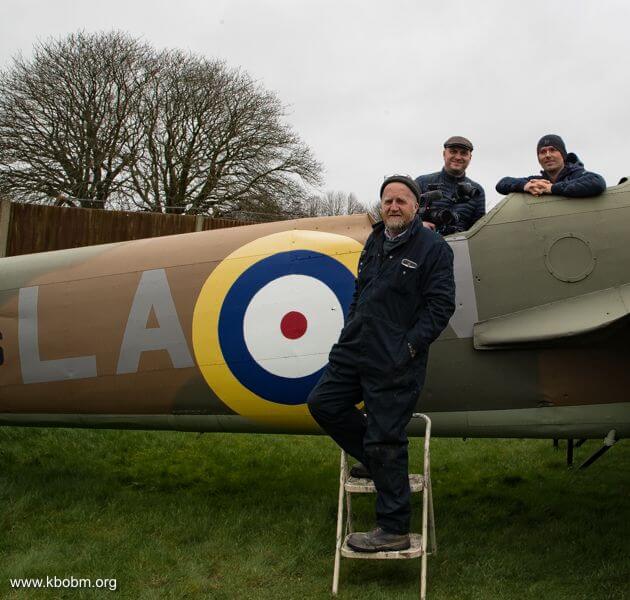 10 February Casa survives the storms.
Fantastic news came in to us at 2am this morning that our CASA 2.111B / Heinkel He 111H-16 had survived the high winds at Duxford yesterday without any damage and despite being in a vunerable position outside and on axle stands.
Many thanks to Paul Gabb, Live Side Manager at Duxford for checking her out for us last night.
---