The Heinkel Project
We, the Kent Battle of Britain Museum Trust at Hawkinge, have spent many years looking for a Heinkel He 111H / CASA 2.111.B project and when we heard that the Imperial War Museum's project might become available, we also listened to the rumours that she was completely stripped out in side (to lighten her for the airlift), was full of corrosion (as she had been a gate guardian in Spain for nearly thirty years) and was built as a CASA 2.111.B.
So you can imagine the surprise when Dave, Richard, Julian and Jim, four volunteers from the Museum, inspected the project at Duxford earlier this summer and discovered that many of her instruments, controls, control column, rudder bar pedals etc were still insitu. The corrosion was fairly localised and can be inhibited, controlled, patched and replaced, as and where necessary. More importantly we believe she was built in the early 1940's as a Heinkel He 111H-16 and later converted, including her engines to a CASA 2.111.B.
Since acquiring the project the volunteers, lead as always by Dave, have been busy planning, in conjunction with the Imperial War Museum, to move the Heinkel to Hawkinge in mid to late November.
We have also been busy tracking down spare parts for her long-term restoration. So far we have a large percentage of the radio equipment required, following up leads on Jumo 211 engines in various countries around the world and seeking prices for replacement engine cowlings, so we can convert her back to her original Heinkel He 111H specification!
During the Winter of 2019 to Spring 2020, the Museum restored the CASA 2.111.B to the specifications of a Heinkel He 111H-2 bomber, in the livery of A1+DA from Stab Kampfgeschwader 53 which was shot down on 15 September 1940 - now commemorated as Battle of Britain Day - over East London. In the UK, there are only two examples of a Heinkel He III and A1+DA being the only bomber variant.
More information about its past was revealed when the paintwork was removed from the leading edge of the port wing stub, when German style battle damage repair to a bullet hole was discovered, confirming that it had flown with the Luftwaffe during WW2 and had seen combat.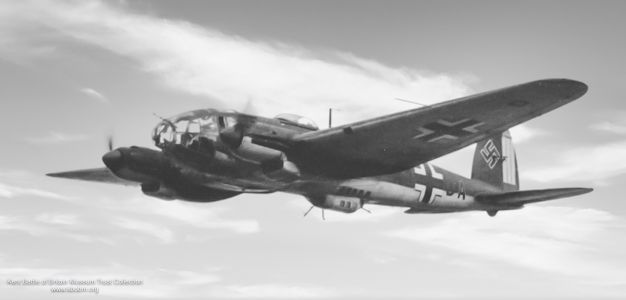 Heinkel He 111H-2 Werke No. 3140 (Coded A1+DA of of Kampfgeschwader 53, taken shortly before it was shot down on 15 September 1940.
On 15 September, the 1st and 2nd Gruppen of Kampfgeschwader 53, comprising of twenty-four Heinkel He 111's, had taken off from Lille-Nord in France and met twenty-eight Heinkel He 111's of Kampfgeschwader 26, forty-three Dornier Do 17's of Kampfgeschwader 2 and nineteen Dornier Do 17's of Kampfgeschwader 3 north of Boulogne at 14:05 hours. Accompanied by approximately four hundred and fifty fighters they crossed the coast at Dungeness heading towards their targets in London. Arriving over East London at 14:45 hours, Kampfgeschwader 53, in the centre column, were hit by forty-one RAF fighters.
It was during the ensuing dogfight that Heinkel He 111H-2 Werke No. 3140 (coded A1+DA) of Stab Kampfgeschwader 53 was shot down by British fighters at 14:50 hours on Sunday 15th September 1940 whilst on a bombing raid to attack the Becton Gas Works, in East London. Shortly after releasing its twelve bombs, which dropped near the Becton Gas Works, it is believed to have been intercepted and shot down by Sgt Bohumír Fürst of 310 (Czechoslovak) Squadron but was also possibly attacked by F/O Blair D. Russell of No. 1 (RCAF) Squadron.
Some of the wreckage of this aircraft lay undisturbed until 1986 when the Arsenal was being developed to form part of the new Thamesmead Estate. Items including two MG 15 machine-guns, sections of armour plate, main undercarriage leg and tyre, large section of the gondolier, coins etc where unearthed and are on show in the museum.
Heinkel He 111H Specifications
| | |
| --- | --- |
| Type : | Bomber |
| Crew : | 5 (pilot, navigator/bombardier/nose gunner, ventral gunner, dorsal gunner/radio operator, side gunner) |
| Engines : | 2 × Junkers Jumo 211F-1 or Junkers Jumo 211F-2 V-12 inverted liquid-cooled piston engines, 970 kW (1,300 hp) each (Jumo 211F-1) 1,000 kW (1,340 hp) (Jumo 211F-2) |
| Propellers : | 3-bladed variable-pitch propellers |
| Wing Span : | 22.6 m (74 ft 2 in) |
| Length : | 16.4 m (53 ft 10 in) |
| Height : | 4 m (13 ft 1 in) |
| Airframe : | Metal |
| Skin : | Metal |
| Empty weight : | 8,680 kg (19,136 lb) |
| Gross weight : | 12,030 kg (26,522 lb) |
| Max takeoff weight : | 14,000 kg (30,865 lb) |
| Maximum Speed : | 440 km/h (270 mph) |
| Service Ceiling : | 6,500 m (21,300 ft) |
| Range : | 2,300 km (1,400 miles) |
| Armament : | Could be equipped with: Guns : up to 7 × 7.92 mm (0.312 in) MG 15 machine guns or 7x MG 81 machine gun (2 in the nose, 1 in the dorsal, 2 in the side, 2 in the ventral), some of them replaced or augmented by: 1 × 20 mm (0.787 in) MG FF cannon (central nose mount or forward ventral position) 1 × 13 mm (0.512 in) MG 131 machine gun (mounted dorsal and/or ventral rear positions) Bombs : 2,000 kilograms (4,400 lb) in the main internal bomb bay Up to 3,600 kilograms (7,900 lb) could be carried externally. |